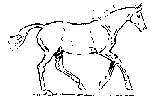 Equisoft Veterinarian Assistant --- Click Here for More Information
Enter and Invoice Information by Patient, not by Owner
Drop Down Lists of all Patients, Clients, Trainers, Treatments and Medication for the Quickest Data Entry
Exclusive DataMerge Option for Multiple Laptop Capability
Print Invoices on the Road
Patient History Stays With Patient
Quick and Easy Owner Changes
Split Ownerships are Handled Elegantly
Simple Interface Means Training is a Snap
Programmable Rates per Owner
Enter Start and Departure dates and the program automatically calculates the correct invoice amounts.
Book the mares and all information appears in the individual calendar of breeding records, as well as printing out of the breeding contracts.
Pedigrees and record of the mares previous foals
Track Races, Earning, Drivers, Exercise
Schedule Workouts and Stakes Races
Automatically calculates totals for Leased Horses
Multiple ownership figured automatically
Completely itemizes charges; Veterinarian, Shoeing, Board, Pasture, Racing, Groom, Night Watchman, Equipment, etc.
Equisoft Small Farm Assistant --- Click Here for More Information
Maintains Farm Records
Tracks cost per Day Actual Cost
Stores pedigrees remembering family relations
Invoices multiple ownerships automatically
Keeps exercise charts
All of the Equisoft Assistant Software Programs are written specifically for Equine Professionals using Microsoft Access. The Veterinary Assistant and Breeding Farm Assistant are compatible with any version of Windows. The Trainer's Assistant and the Small Farm Assistant require Windows 95 or Windows 98.What this means to the user is a familiar and comfortable interface. Since the programs have been written and tested by Equine Professionals, the programs work the way you work. You get what you need, all you need, and nothing else to make the program confusing to use.
Contact us at:Sales@EquisoftUSA.com